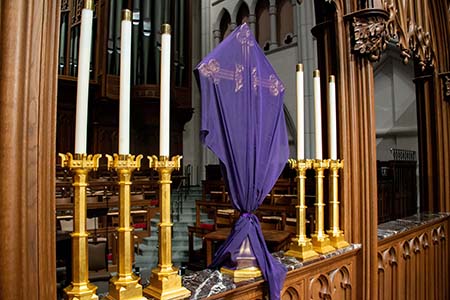 Lenten Quiet Day – Psalms for Living
Sponsored by St. Martin's OSL Healing Ministry 
Saturday, March 5 @ 9 a.m. – noon in the Parish Life Center
Praying the Psalms is an ancient practice, which the early Christians carried over from their Jewish roots. While this practice seemed to be more prevalent and constant during the rise in the monastic communities, Athanasius, Bishop of Alexandria in the 4th century, who is still considered one of the Doctors of the Western Church and one of the Three Holy Hierarchs of the Eastern church, brought this practice to the attention of the Church in his Letter to Marcellinus, believed to have been written in 367. In it, he systematized the 150 psalms into various categories for prayer and meditation.
During Lenten Quiet Day, Clergy will be taking this categorization and providing meditations on Psalms for the suffering, for the thankful, and for the guilty. The Rev. Dr. Suse McBay, The Rev. Alex Graham  and The Rev. Sharron Cox will each supply a 15-20-minute meditation on one or more Psalms followed by a 20-minute silent time for reflection, prayer or sitting in one of St. Martin's many gardens.
Registration is recommended so that enough coffee and breakfast pastries will be available. Please dress comfortably and bring a Bible and journal. Come and be present to God as you begin your "Holy Lent."
Register at bit.ly/2022lentenquietday. For more information, please contact the Rev. Sharron Cox at scox@stmartinsepiscopal.org or call 713-830-4131.
Campus Map