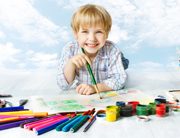 St. Martin's Episcopal Church
Abrakadoodle Art Class – Let's Go Camping!
ONLINE REGISTRATION ONLY ~ BEGINS THURSDAY, APRIL 21
Let's Go Camping!
This art camp takes us to an imaginary world where we will hike, build a campfire, create a nature tapestry and learn about wild animals. We will learn all about camping by mapping our campground, designing our own camping trailer, and "collecting" bugs in a jar – all without mosquitoes!
Please bring a snack and drink
AGES 4-6 (Children must be four years old by June 1, 2022)
Monday, July 18 – Friday, July 22
9 a.m. – noon
Minimum: 7
FEE: $210
All art supplies are provided.