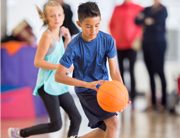 St. Martin's Episcopal Church
Summer Basketball Camp
The National Basketball Academy Presents: Summer Basketball Camp
ONLINE REGISTRATION ONLY
TNBA Houston Summer Camps are designed to help all players become better at basketball, whether you are a new player to learning the basics, a decorated travel ball player or a high school varsity athlete, this camp program will give you the tools to improve. Learn from the best coaches in the Greater Houston area while enjoying all the fun that comes from attending camp with TNBA staff. Sessions fill up quickly – sign up today!
TNBA Summer Camp Includes:
Expert instruction provided by the National Basketball Academy
1:10 Coach-to-Player Ratio
Drills, skill development stations, and game situations (1v1,3v3, & 5v5)
1 free group training session w/a TNBA trainer (new registrants only)
Come learn from the best coaches in the game!
For more information contact
Eric Love: elove@thebasketballacademy.com 832-392-0749
Alex Richman: arichman@thebasketballacademy.com 321-243-5281
AGES 4-15 (Children must be four years old before first class)
Monday, July 18 – Friday, July 22 from 1 p.m to 4 p.m.
Minimum: 5 Maximum: 20
FEE: $250