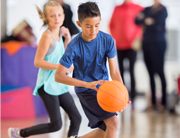 St. Martin's Episcopal Church
Youth Basketball League
Join St. Martin's fun and competitive youth basketball league in association with the West Houston Christian Sports Association (WHCSA)!
The WHCSA teaches youths ages 4 through 11 the fundamentals of basketball and empowers them with life skills, mentorship and sportsmanship. Coaches focus on teaching the game and being a good teammate comes first.
About the 2022-2023 Season
More than 30 Houston-area churches make up the league.
Registration is open and runs until November 6.
The league is available for ages Pre-K through 5th Grade.
Registration cost ($175 for St. Martin's members, $200 for non-members) includes an eight-game schedule from Jan. 14 through March 4, uniforms and pictures.
For coach and player registration, click here. For more information, email Sarah-Hampton Cambas.