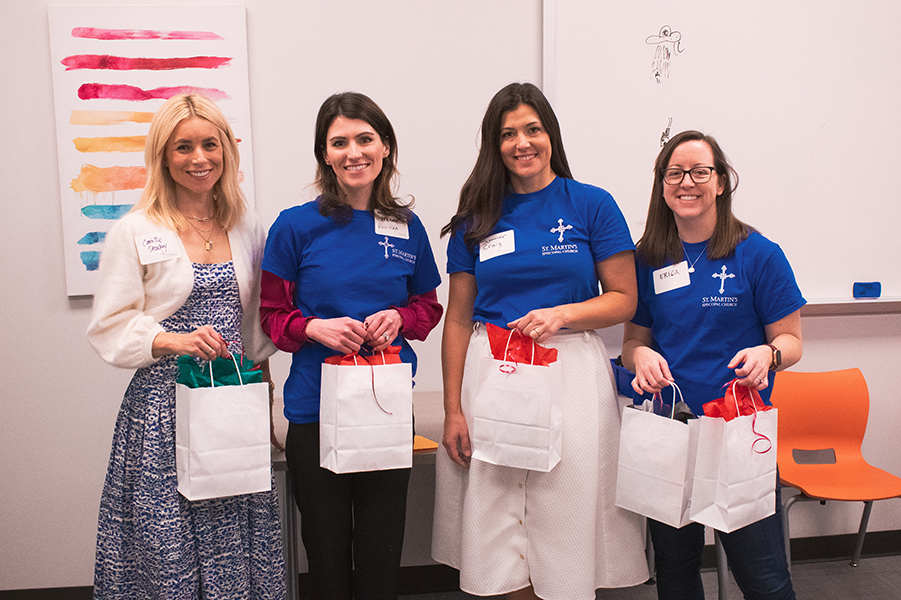 Sunday, February 12, 2023
10-11 a.m.
Children's Life Center and Activity Center Gym
This is the 13th annual work day for St. Martin's Parishioners. Our faith in Christ is expressed by helping others in our community. Activities are planned on campus to serve the many agencies we support. Just show up and visit a variety of projects and agency partners, and don't forget to wear your Outreach t-shirt.
Create College Care Packages for Boys & Girls Country of Houston
Boys and Girls Country provides children from families in crisis with a loving and nurturing Christian home environment, raising them to become self-sustaining and contributing adults.
Assemble Toiletry Kits for Christian New Creation
This faith-based ministry provides transitional living facilities for male ex-offenders in Texas.
Package Clothing Packs for Clothed By Faith
Working through agencies and school districts, Clothed by Faith provides gently used and new clothes to those in the midst of a crisis.
Donate clothes for the Clothed by Faith Clothing Drive
Create Defender Boxes for Demand Disruption
Demand Disruption fights the demand for sex trafficking by eliminating buyer motivation and reducing access to the exploited.
Assemble Hygiene Kits for The Beacon
The Beacon is a day shelter in downtown Houston that provides meals, laundry services and other assistance for homeless individuals. The ministry connects them with next-step services and finds housing solutions.
Pack care kits for Epiphany Community Health Outreach Services
ECHOS works with more than 30 public agencies and non-profit organizations to provide food and key social services.
Assemble Shower Kits for Lord of the Streets
Lord of the Streets helps to rebuild the lives of homeless and to the marginalized by providing clothing, food and services.
Pack Book Buddy Bags for The Periwinkle Foundation
The Periwinkle Foundation develops and provides programs that positively change the lives of children, young adults and families who are challenged by cancer and other life-threatening illnesses and are cared for at Texas Children's Hospital.
Create Goody Bags for Senior Rides and More
Senior Rides and More volunteers reach out to isolated seniors throughout the city by providing life-sustaining services.
Prepare Packages for Undies for Everyone
Undies for Everyone provides new underwear for children living in poverty or crisis.
Make get-well cards for Faith in Practice patients
Create get-well cards for Faith in Practice patients in Guatemala with St. Martin's World Missions ministry. The organization provides medical care to the poor.
Cut shoe patterns for Sole Hope
Join St. Martin's World Missions ministry and cut shoe patterns out of denim material for Sole Hope. The organization makes shoes for vulnerable children in Uganda.
Knit or crochet prayer shawls for Prayer Shawl Ministry
Learn how to knit a prayer shawl with our Prayer Shawl Ministry, which gives blessed shawls to people in need of prayer.