Since its founding in 1952, St. Martin's Episcopal Church has grown to become the largest Episcopal Church in North America with more than 9,800 members. The Parish celebrates worship at six Sunday and three Wednesday services in both traditional and contemporary liturgical styles. Our worship services provide an opportunity to give thanks and praise to God in the Anglican evangelical and orthodox tradition.
The Church offers a wide range of Sunday School classes for the entire family, as well as numerous Outreach and Missions opportunities, and a variety of programs and events for adults, youth and children.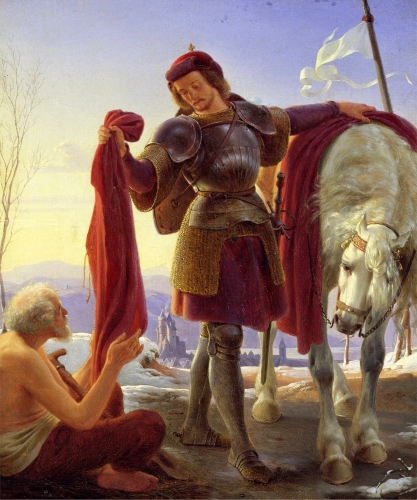 Our Patron Saint and
St. Martin's Day
St. Martin is one of the most familiar and recognizable Christian saints. He was born in 316 in what is now modern-day Hungary and grew up in Italy, where his father was a tribune for the Roman army. Martin converted to Christianity at a young age before joining the Roman cavalry.
Martin's faith conflicted with serving as a soldier and he resigned his post. He followed a simple life as a monk and founded the first monastery in Gaul (present day France) in about 360. Martin then traveled by donkey and boat to spread the news of Jesus Christ and was sought out for his healing prayers for the sick.
He was appointed Bishop of Tours in 371 and recognized as one of the greatest evangelists of the Church. He died in November 397.
In the Middle Ages, more church parishes chose Martin as their patron saint than any other saint. Nov. 11, the day St. Martin is believed to have been buried, has been celebrated as St. Martin's Day for more than 1,600 years.
Fun Facts / Did You Know?
St. Martin's is the largest Episcopal Church in North America with more than 9,800 members.

There are 133,000 pieces of stained glass in The Church alone.

About $42 million have been given to outreach efforts since 2007.

Pre-COVID, the annual average number of events on Campus was 17,007.

Pre-COVID, the annual average number of meals served at Café St. Martin's was 53,000.

Pre-COVID, the average Sunday worship attendance was 1,445.

There are 40 recovery and support groups that meet on Campus.

Some 60 new trees were planted throughout the Campus during the Building for the Ages campaign.

St. Martin's Campus covers 293,809 square feet.

St. Martin's Campus stretches over 15 acres.

St. Martin's Campus has eight individual gardens for prayer, meditation, reflection and even play in our Crosswalk Garden for children.

The Church opened on Easter April 4, 2004. The design is based on 13

th

-century St. Elisabeth's Church in Marburg, Germany, and is 27,630 square feet.

The Church was designed by Jackson & Ryan Architects and built by Tellepsen Construction Company. It took 15 months to complete.

The Church spires tower 188 feet about the street.

Four bells in the bell tower, cast by Whitechapel Bell Foundry in the United Kingdom, ring the notes F, A-flat, C and E-flat – this is the same foundry that cast the world-famous bells for Big Ben in London and the Liberty Bell in Philadelphia.

Willet Stained Glass Studies (now a division of Associated Crafts

®

Willet Hauser Architectural Glass Company) designed and created St. Martin's stained-glass windows. This studio is responsible for windows found in churches and historic buildings in all 50 states and 14 foreign countries.
History
Look here for other helpful resources.