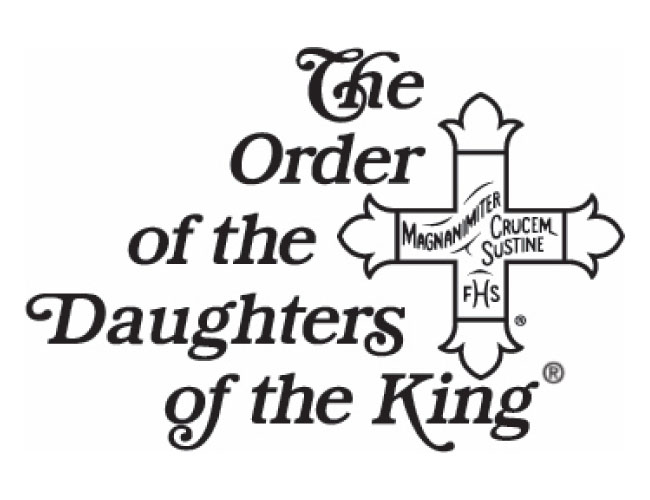 St. Martin's Episcopal Church
The Order of the Daughters of the King®
First Saturdays of the month
Rekindle friendships and fellowship in this spiritual sisterhood dedicated to a life of Prayer, Service and Evangelism. All women who are members of St. Martin's may join the Order for Bible study. Visitors are welcome at each meeting.
Visit the Diocese of Texas Daughters of the King website for more information about the Order.
November 5 – Special Guest, Lea Byrd, Mobilization Manager, The Landing
This year we have selected The Landing as our outreach partner.  The Landing is a non-profit organization whose mission is "to serve survivors of human trafficking and commercial sexual exploitation with a trauma-informed approach fueled by the love of Christ". Outreach Chair, Ann Eberle, will introduce Lea who will speak to us about the good works of this organization and the project selected for DOK's February Outreach Day.
December 10 – Quiet Day – 9 a.m. – noon, Parish Life Center
DOK will participate in this special day of reflection for our church family. More information will follow.
January 7 – Small Group Activity Led by DOK Vice President, Suzanne Miller
Suzanne enjoyed a successful 30-year career as an executive consultant and received training from The Center for Creative Leadership.  She will lead our group in an activity using high quality color images to invite personal reflection and small group dialogue about prayer and its significance in our daily lives.
February 4 – The Landing Outreach Project
Project details to follow.
March 4 – OSL Lenten Quiet Day – 9 a.m. – noon, Parish Life Center
In lieu of the March meeting, we encourage Daughters to attend the OSL Lenten Quiet Day.
April 1 – Book Study, Being Disciples – Essentials of the Christian Life by The Right Reverend Rowan Williams, 104th Archbishop of Canterbury. In this book, Williams turns his attention to what is required for us to continue following Jesus and growing in faith.  The book has six succinct chapters:  Being Disciples; Faith, Hope, and Love; Forgiveness; Holiness; Faith in Society; and Life in the Spirit.
May 6 – Our Season Ends
We will end our year with Holy Eucharist and reflections.
"Let us think of ways to motivate one another to acts of love and good works.  And let us not neglect our meeting together, as some people do, but encourage one another, especially now that the day of his return is drawing near." Hebrews 10:24-25 NLT
More information:
Tracee Tindol
Administrative Assistant
More information:
The Rev. Sharron L. Cox
Associate for Outreach, Pastoral Care and Women's Ministries